You've worked hard for what you have. Don't lose it to phone scams or other schemes by a scam artist.
This page posts current scams targeting senior citizens that are making their way through the senior community. The posts below will give a name and a description of the current scams identified by the FTC and any contact information we can find for more information or help if you have been affected by a senior scam.
The FBI
The Federal Bureau of Investigation reports on its website that. "Senior citizens especially should be aware of fraud schemes for the following reasons:
Senior citizens are most likely to have a "nest egg," to own their home, and/or to have excellent credit—all of which make them attractive to con artists.
People who grew up in the 1930s, 1940s, and 1950s were generally raised to be polite and trusting. Con artists exploit these traits, knowing that it is difficult or impossible for these individuals to say "no" or just hang up the telephone.
Older Americans are less likely to report a fraud because they don't know who to report it to, are too ashamed at having been scammed, or don't know they have been scammed. Elderly victims may not report crimes, for example, because they are concerned that relatives may think the victims no longer have the mental capacity to take care of their own financial affairs.
When an elderly victim does report the crime, they often make poor witnesses. Con artists know the effects of age on memory, and they are counting on elderly victims not being able to supply enough detailed information to investigators. In addition, the victims' realization that they have been swindled may take weeks—or more likely, months—after contact with the fraudster. This extended time frame makes it even more difficult to remember details from the events.
Senior citizens are more interested in and susceptible to products promising increased cognitive function, virility, physical conditioning, anti-cancer properties, and so on. In a country where new cures and vaccinations for old diseases have given every American hope for a long and fruitful life, it is not so unbelievable that the con artists' products can do what they claim."
If you think you have been the victim of a scam or fraud, contact your local police department immediately. The United States Senate also provides a Fraud Hotline that you can call to report a scam or fraud at 1-855-303-9470.  https://www.aging.senate.gov/fraud-hotline. If you think you've been scammed, report it to local law enforcement and the FTC at ftc.gov/complaint.*
We read you loud and clear! Last year, the FTC got nearly 143,000 reports about tech support scams. We've been warning people about this type of scam for years. But one piece of information in the FTC's newest Consumer Protection Data Spotlight was an eye-opener. People 60 and over were about five times more likely than younger people to tell us they lost money on this scam, even though they were less likely than younger people to say they lost money to many other types of scams…  Read More and see a Video Here.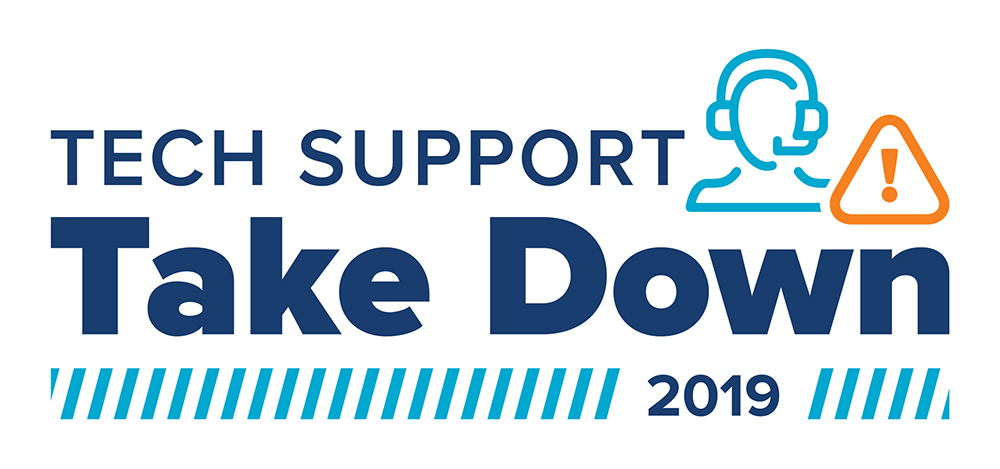 February 12, 2019
by Lisa Weintraub Schifferle
Attorney, FTC, Division of Consumer & Business Education
It's Valentine's Day and love is in the air. You may think you spend a lot on flowers or chocolate, but losing money in a romance scam would cost you even more. Last year, people reported losing $143 million to romance scams – a higher total than…
Read More and see a Video Here.
January 30, 2019
by Seena Gressin
Attorney, Division of Consumer & Business Education, FTC
It's Tax Identity Theft Awareness Week – a terrific time to get up to date on protecting yourself from identity thieves who try to claim your tax refund and imposters who pretend they're from the IRS to get your money.
Tax identity theft happens when someone uses your Social Security number (SSN) to get a tax refund or a job. You might find out it's happened when you get a letter from the IRS saying that more than one tax return was filed with your SSN, or IRS records show you earned income from an employer you don't know. Or, the IRS may reject your efiled tax return as a duplicate filing.  Read More and see a Video Here.
December 26, 2018
by Colleen Tressler
Consumer Education Specialist, FTC
Phishing is when someone uses fake emails or texts to get you to share valuable personal information – like account numbers, Social Security numbers, or your login IDs and passwords. Scammers use your information to steal your money, your identity, or both. They also use phishing emails to get access to your computer or network. If you click on a link, they can install ransomware or other programs that can lock you out of your data.
Scammers often use familiar company names or pretend to be someone you know. Here's a real-world example featuring Netflix… Read More Here
December 12, 2018
by Jennifer Leach
Acting Associate Director, Division of Consumer and Business Education, FTC
The FTC is getting reports about people pretending to be from the Social Security Administration (SSA) who are trying to get your Social Security number and even your money. In one version of the scam, the caller says your Social Security number has been linked to a crime… Read More Here
December 4, 2018
by Seena Gressin
Attorney, Division of Consumer & Business Education, FTC
Marriott International says that a breach of its Starwood guest reservation database exposed the personal information of up to 500 million people. If your information was exposed, there are steps you can take to help guard against its misuse.
According to Marriott, the hackers accessed people's names, addresses, phone numbers, email addresses, passport numbers, dates of birth, gender, Starwood loyalty program account information, and reservation information. For some, they also stole payment card numbers and… Read More And See Video Here
November 26, 2018
by Rosario MéndezAttorney,
Division of Consumer and Business Education, FTC
The giving season has begun and many of us are thinking about gifts for family and friends, as well as giving to our favorite charitable causes. If you're thinking about donating to charity, do some research first to make sure your money will really help the causes you care about. Here's what you can do:… Read More Here
November 8, 2018
by Karen Dodge
Staff Attorney, Midwest Region, FTC
We've all known for a long time that scammers ask people to pay by wiring money. Money wiring companies like MoneyGram and Western Union have also known that scammers have people wire money using their services. In fact, the FTC has sued both companies – which have paid a lot of money to settle those charges – over exactly that issue. When the FTC settled with those companies (MoneyGram in 2009, Western Union in 2017), they also agreed to… Read More Here
November 2, 2018
by Lisa Lake
Consumer Education Specialist, FTC
If you're looking online for health insurance, there are lots of results that seem to offer good choices. But dishonest companies are literally banking on your being confused by all those choices. So, before you sign up and pay, take steps to know you're getting exactly what the plan advertised. Otherwise, your so-called "coverage" can leave you exposed to substandard benefits and costly payments.
The FTC says that's what happened to customers of Simple Health. The company allegedly tricked consumers into believing… Read More Here
October 31, 2018
by Lisa Lake
Consumer Education Specialist, FTC
"I'm calling from [pick any bank]. Someone's been using your debit card ending in 2345 at [pick any retailer]. I'll need to verify your Social Security number — which ends in 8190, right? — and full debit card information so we can stop this unauthorized activity…"
So the caller ID shows the name of your bank. And the caller knows some of your personal details. Does that mean it's legit?  Read More Here!
October 29, 2018
by Lisa Weintraub Schifferle
Attorney, FTC, Division of Consumer & Business Education
If you get a call that looks like it's from the Social Security Administration (SSA), think twice. Scammers are spoofing SSA's 1-800 customer service number to try to get your personal information. Spoofing means that scammers can call from anywhere, but they make your caller ID show a different number – often one that looks legit. Here are few things you should know about these so-called SSA calls.
Read More Here!
October 26, 2018
by Colleen Tressler
Consumer Education Specialist, FTC
If you, or someone you know, were displaced after Hurricane Florence or Michael, finding a new place to live is a priority. But before you pay any money, be cautious of rental listing scams. Scammers often advertise rentals that don't exist to trick people into sending money before they find out the truth.
Some scammers hijack a real rental or real estate listing by changing the email address or other contact information, and placing the modified ad on another site. The altered ad may even use the name of the person who posted the original ad. In other cases, scammers have hijacked the email accounts of property owners on reputable rental websites. Other rip-off artists make up listings for places that aren't for rent or don't exist.
Here are some signs you may be dealing with a scam:  Read More Here!
October 25, 2018
by Jennifer Leach
Acting Associate Director, Division of Consumer and Business Education, FTC
We told you last month about the $505 million in checks going back to 1.1 million people who got an online payday loan from a company affiliated with AMG Services. And we've heard from many of you that you got your check and cashed it. We've just heard, though, that scammers are trying to get into the act…
October 19, 2018
by Colleen Tressler
Consumer Education Specialist, FTC
The FTC has been hearing about a new scam targeting people who are selling their cars online. They're getting calls or texts from people who claim to be interested in buying the car – but first, want to see a car history report. They ask the seller to get the report from a specific website, where the seller needs to enter some information and pay about $20 by credit card for the report. The seller then sends it to the supposed buyer but never hears back. Weird, huh? Read More Here!
Gift cards are a great way to give a gift. But did you know they are also a scammer's favorite way to steal money? According to the FTC's new Data Spotlight, more scammers are demanding payment with a gift card than ever before – a whopping 270 percent increase since 2015.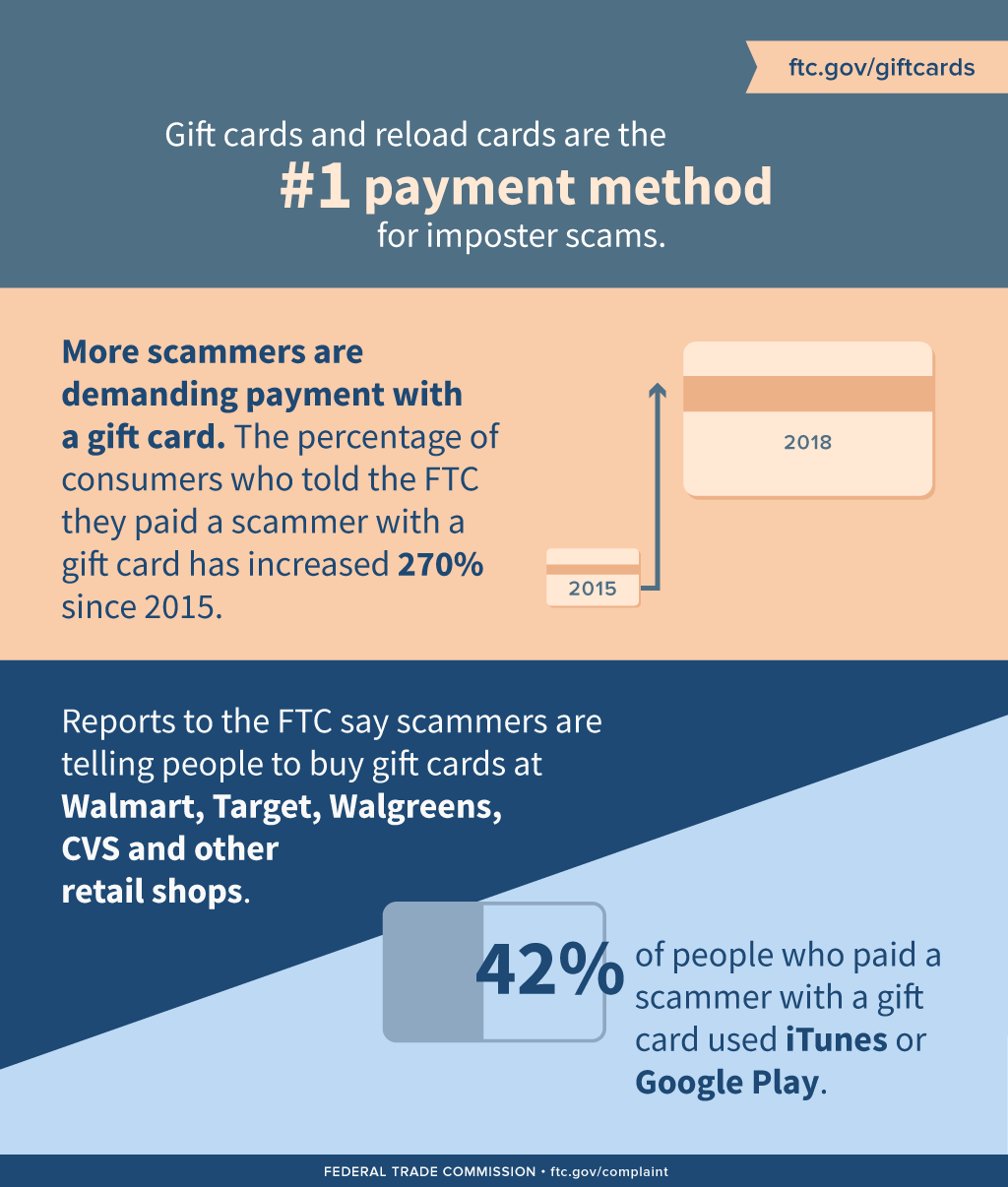 Gift cards are for gifts, not for payments…  Read More Here!
October 10, 2018
by Colleen Tressler
Consumer Education Specialist, FTC
As Hurricane Michael barrels its way toward Florida's Gulf Coast, scammers continue to con people who want to help those affected by past hurricanes. Case in point: The FTC and its state and local partners are getting reports about sham charities following Hurricane Florence's devastating impact on North and South Carolina.
In recent weeks, a slew of new websites related to Hurricane Florence have popped up… Read More Here!
*The preceding information is from the US Federal Trade Commission and has been re-posted here with the permission of the FTC for your convenience.